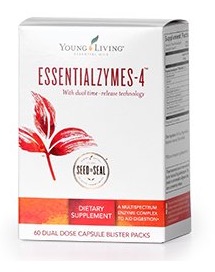 Essentialzymes-4 by Young Living Essential Oils is a multi-spectrum enzyme complex specially formulated to aid the critically needed digestion of dietary fats, proteins, fiber, and carbohydrates commonly found in the modern processed diet. The dual time-release technology releases the animal- and plant-based enzymes at separate times within the digestive tract, allowing for optimal nutrient absorption.
Each capsule is infused with Ginger, Fennel, Tarragon, Anise, and Lemongrass essential oil. As with all Young Living products, Essentialzymes-4 is loaded with 100% pure, therapeutic-grade essential oil.

Take two capsules (one dual dose blister pack) two times daily with largest meals (four capsules total). Keep out of reach of children. If you are pregnant, nursing, taking medication, or have a medical condition, consult a health professional prior to use.
The plant-based enzymes capsule is designed to release immediately upon entering the stomach, where the pH environment is broad, acidic, and more conductive to plant-based enzyme absorption. The animal-based enzyme capsule (part of the Essentialzymes-4 dual dose pack) is designed to delay its release in the lower intestine region, where the environment is more alkaline and the pH level is better suited for animal enzyme absorption.
Essentialzyme-4 Ingredients
Why Young Living?
Young Living is is the only essential oil company that owns their own farms or partners with farms that are willing to live up to their standards for growing, harvesting and distilling. That helps to make the quality of their Essentialzymes-4 second to none.