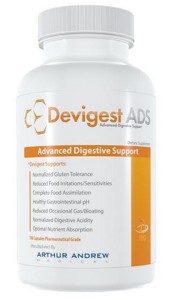 Devigest ADS is a dietary supplement that is a stronger and more powerful than its previous versions. It helps with digesting difficult to digest foods when taken with meals. It helps with dairy and gluten intolerances, as well as it helps to reduce abdominal gas and bloating too. It contains extremely potent Peptidase that has 500 units of DPP-IV pr serving. Devigest helps to break down the gluten and casein that irritates the digestive tract. Devigest is a broad spectrum formula that supplements the digestive system.*


Devigest ADS Ingredients
Devigest Advanced Digestive Support is simple for adults to take with a suggested use of two capsules before meals. Devigest is all natural and contains the following ingredients:
Calcium Carbonate – 60 mg
Potassium Carbonate – 50 mg
Devigest Proprietary Blend – 580 milligrams and includes:
Cellulose Capsule
There is also Alpha Galactosidase which helps with the digestion of food within the system as well. Our bodies lack the enzymes to break down some carbohydrates in the small intestine. This results in undigested food that than enters the large intestine and bacteria begins to break it down, which leads to large amounts of gas and bloating as well. Devigest helps to stop the gas before it starts, by helping to digest these hard to digest foods.
Devigest ADS Details
Devigest includes a proprietary blend of the following ingredients: Peptidase DPP-IV, Amylase, Glucoamylase, Alpha Galactosidase, Alpha Galactosidase, Lactase, Bromelain, Acid Stable Protease, Cellulase, Xylanase, Lipase, Hemicellulase, Papain, B Subtilis with pH stable proteases derived from A Oryzae and B Licheniformis.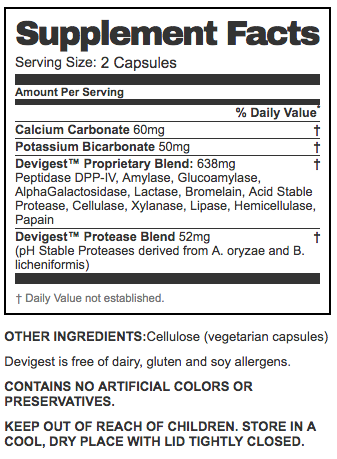 Designed to replace and improve Devacor, Devigest ships for free with our low price guarantee.


* DISCLAIMER
Individual results may vary. The statements on this website and all affiliates have not been evaluated by the FDA. Products mentioned on this website are not intended to diagnose, treat, cure or prevent any disease and do not replace medical advice. Advice on treatment or care should be obtained through consultation with a physician or trained health care practitioner who has examined that patient or is familiar with that patient's medical history.
EnzymeSuperstore, and its affiliates urge you to consult with a qualified health care provider to discuss both the advantages and risks of using any health related product and for answers to your personal questions.