Nattovena – Pure Nattokinase
Nattovena is the first pure nattokinase dietary supplement with a potency of 4,000 fibrinolytic units, double the standard amount that is used. Nattokinase is an enzyme that is found naturally in a Japanese dish, natto, and it benefits one's health in many ways. The enzyme is extracted in a laboratory for use in supplements. Nattovena capsules containing nattokinase are formulated to correct imbalances of fibrin in the body. Fibrin is a necessary protein that is needed to help the blood clot so that an open wound can heal. Fibrin is produced by the thrombin protein in the body and then degraded by plasmin. Sometimes, the body doesn't degrade the fibrin which leads to excess levels in the body. Nattovena can help the to degrade the excess amount of fibrin in the body during the healing process.
Since Nattovena is made from food, it is stable in the stomach and does not require a coating to protect it from the stomach acid. It also has no known side effects and it is perfectly safe to consume in foods or by dietary supplements.
Nattovena Benefits
Nattovena's main benefit is around cardiovascular health. Plasmin is the only enzyme that is responsible for dissolving blood clots in the body. The production of plasmin slows down as people age, making blood clots harder to dissolve. As people get older, they also have higher concentrations of fibrinogen levels, which can cause blood clots to form throughout the body. Nattovena helps to reduce the fibrinogen levels which reduces the risk of blood clots forming in the body.
Nattovena also helps support proper circulation throughout the body. It is important to maintain good circulation so that the body stays healthy and strong. It is also used to help promote healthy blood clotting formation so that an injury can scab and heal. Other great benefits of taking Nattovena supplements is that it keeps blood clots from sticking together, helps support proper blood viscosity, and it helps keep blood pressure levels low in the normal range*.
Nattovena has other benefits besides supporting the cardiovascular system. The nattokinase also helps muscles recover from injury and exercise. The immune system and joints are also supported by fibrin in the body and proper blood viscosity*.
Nattovena Ingredients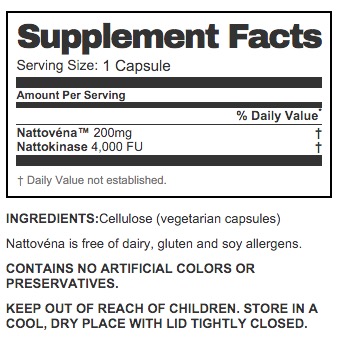 * DISCLAIMER
Individual results may vary. The statements on this website and all affiliates have not been evaluated by the FDA. Products mentioned on this website are not intended to diagnose, treat, cure or prevent any disease and do not replace medical advice. Advice on treatment or care should be obtained through consultation with a physician or trained health care practitioner who has examined that patient or is familiar with that patient's medical history.
EnzymeSuperstore, and its affiliates urge you to consult with a qualified health care provider to discuss both the advantages and risks of using any health related product and for answers to your personal questions.