Serrapeptase – Enteric-Coated Peptizyme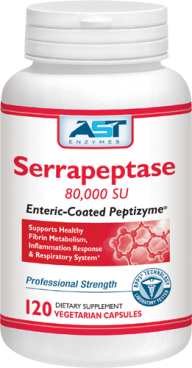 Serrapeptase (Peptizyme-SP) by AST Enzymes is an enzyme supplement that provides support to the body when reacting to inflammation. Serrapeptase is taken to resolve respiratory and sinus problems that come from reactions to toxic substances that cause disturbances within the system*. When the enzyme is taken, the non-living tissue that is formed when the system self-repairs is removed. Serrapeptase (formerly Peptizyme-SP) removes the non-living tissue from the system. The unique enzymes take care of the tissue that interferes with the absorption of important nutrients in your diet without compromising healthy, useful tissue present in the body.
Serrapeptase contains 80,000 SU per capsule, unheard of in any similar product. The goal is healthy fibrin metabolism and the answer is Serrapeptase. The systemic enzyme is derived from a proteolytic enzyme that originates from silkworms. Through fermentation, the serrapeptase in the enzyme produced by silkworms restores balance to the body's systems. Its inflammation prevention capabilities and the capacity to dissolve proteins effectively help it restore balance to the system.
Benefits of Serrapeptase (Peptizyme-SP)
It helps the body reduce metabolic inflammation that arises from stress and poor nutrition. It may also promote improved cardiovascular health with each dosage as it has been tied to the inhibition of certain proteins that put people at risk for heart disease. Patients can safely take the enzyme with minimum risk of damage to the digestive system or overdose. It can also be used in conjunction with other enzymes safely to maximize health benefits*.
Patients who suffer from certain digestive and respiratory issues may find that the Peptizyme SP has a restorative effect on the system, which becomes compromised by frequent interaction with toxic substances*.
Directions for taking Serrapeptase: Take 1 to 2 capsules twice a day on an empty stomach. Take capsules at least 30 to 60 minutes before or 2 hours after a meal with 8 oz. of water. Store in cool, dry place with the lid tightly closed.
Caution: If you are pregnant, nursing, taking any medication or under medical supervision, consult your doctor before use. Discontinue use and consult your doctor if any adverse reactions occur. Not intended for use by persons under the age of 18.

* DISCLAIMER
Individual results may vary. The statements on this website and all affiliates have not been evaluated by the FDA. Products mentioned on this website are not intended to diagnose, treat, cure or prevent any disease and do not replace medical advice. Advice on treatment or care should be obtained through consultation with a physician or trained health care practitioner who has examined that patient or is familiar with that patient's medical history.
EnzymeSuperstore, and its affiliates urge you to consult with a qualified health care provider to discuss both the advantages and risks of using any health related product and for answers to your personal questions.