Neprinol – Advanced Fibrin Defense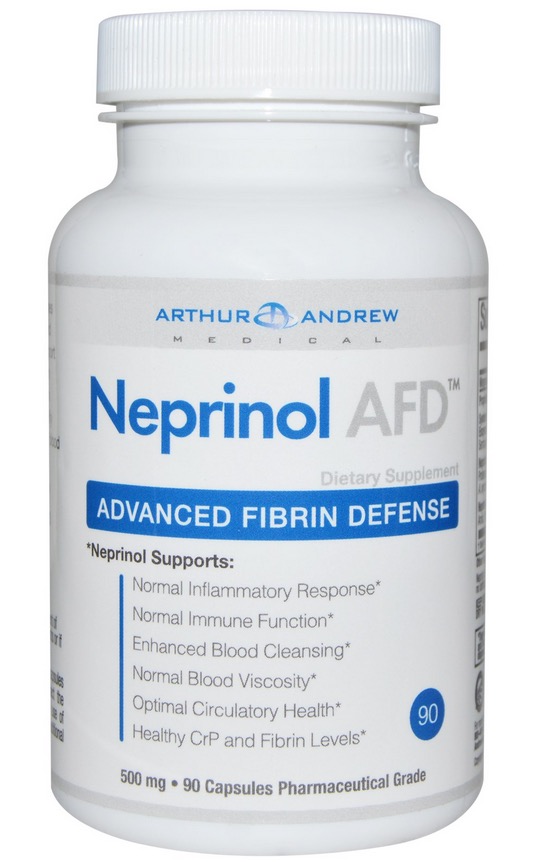 Neprinol AFD is a clinically developed nutritional supplement that helps the body by maintaining already healthy fibrin expression and inflammation levels. It was specifically designed for people suffering from pain, inflammation, heart disease, high cholesterol and joint pain like rheumatoid or osteoarthritis. Neprinol's advanced fibrin defense is also great for fibrosis or sclerosis issues like multiple sclerosis and cystic fibrosis.*
As we grow older our need for supplementary enzymes goes up. Enzymes are important because they help us with immune health, joint health and good circulation. Enzymes also play a key role in quick healing after being injured. Neprinol is designed to help improve and maintain enzyme levels to help with all of those areas.



Neprinol is made up of two major proteolytic enzymes that digest cellular debris in our blood (usually fibrin and plaque). These enzymes are Serrapeptase and Natokinase. Neprinol is the first complete oral enzyme blend with all pharmaceutical grade components designed to start relieving pain in as little as 30-45 minutes. EnzymeSuperstore.com offers the capsule form in bottles of 90, 150 and 300 capsules. Suggested use is simple: Take 1 capsule between meals with 8 oz. of water (that's 3 per day).

Neprinol Ingredients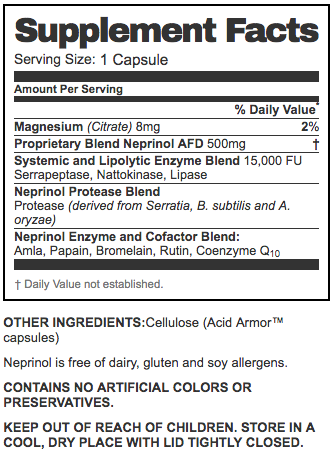 Neprinol AFD is a systemic enzyme formula with the highest activity rating on the market. That makes it synonymous with quality. The real power comes from the highly adaptable enzymes that emulsify chronic immune irritants and fibrin which can eventually lead to things like arthritis and other autoimmune conditions. Neprinol is a clinically developed product with a simple goal to clear arterial pathways and reduce overall blood pressure.
Neprinol AFD is a revolutionary blend of systemic enzymes AND antioxidants specially formulated to support healthy circulatory and immune function.* Isn't it time to try it for yourself?

Neprinol Directions & Dosage
Suggested use for Neprinol is to take 1 Neprinol capsule with 8 oz. of water between meals or as directed by your healthcare practitioner.
Increased Neprinol Support dosage: 4-6 Capsules per day.
Therapeutic Neprinol dosage: 9 Capsules per day.
Warning & Details: Do not take this product without the consent of your physician if you are currently taking anti-coagulants or if you are pregnant or nursing.



* DISCLAIMER
Individual results may vary. The statements on this website and all affiliates have not been evaluated by the FDA. Products mentioned on this website are not intended to diagnose, treat, cure or prevent any disease and do not replace medical advice. Advice on treatment or care should be obtained through consultation with a physician or trained health care practitioner who has examined that patient or is familiar with that patient's medical history.
EnzymeSuperstore, and its affiliates urge you to consult with a qualified health care provider to discuss both the advantages and risks of using any health related product and for answers to your personal questions.