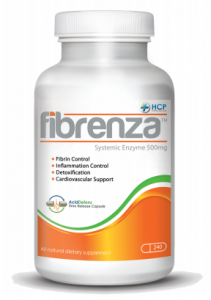 Fibrenza by HCP Formulas has been proven by medical professionals and their research to help the body detoxify, cleanse, avoid inflammation and more. What makes Fibrenza so unique? The advanced and potent blend of 14 powerful systemic enzymes specifically formulated to assist the bodies' ability to cleanse the blood, detoxify, dissolve fibrin and help with inflammation. With the whole body in mind, Fibrenza is formulated for maximum body-wide benefit because of high quality pharmaceutical grade enzymes.
Fibrenza Overview
With key ingredients like Seaprose-S (one of the strongest anti-inflammatory oral enzymes available), Nattokinase NSK-SD for cardiovascular health, Serratiopeptidase (Serrapeptase), Trypsin, Chymotrypsin, Protease, Acid Stable Protease, Bromelain, Papain and Peptidase that all help to break down proteins, toxins and other cellular debris while Superoxide Dismutase (SOD) focuses on helping break down harmful oxygen molecules in cells. Finally, Pancreatin, amylase and lipase all help to digest protein, carbohydrates and fat. With each ingredient being the best at what it does, Fibrenza offers a truly potent blend of powerful enzymes.
The unique delivery system in Fibrenza makes for timed release for better bloodstream absorption via non-GMO vegetable cellulose barrier known as the AcidDefenz Technology.* Fibrenza is best taken on an empty stomach with water at least 45 minutes before meals or 60 minutes after meals.
Fibrenza Directions & Dosage
Suggested Use: Take 2 capsules, twice daily. Your healthcare provider may also recommend an activation dosage of 4 capsules, twice daily for the first two weeks.
Advanced Therapeutic Dosage: Take 4 capsules, twice daily. Your healthcare provider may recommend higher doses.
Fibrenza is made up of immensely effective ingredients that work to help in essential internal health function, mainly the protection against harsh stomach acids. Two powerful ingredients include serrapeptase and seaprose. Seaprose controls protein consumption and works to prevent inflammation. Serrapeptase and seaprose are common dietary supplements in the US that can work together to help the body break down protein and are used to prevent dangerous, burdensome health conditions like heart disease, widespread bodily inflammation, osteoporosis, fibromyalgia, arthritis, bowel diseases, cyst issues, blood clots, and more.*
Nattokinase is another strong enzyme contained in Fibrenza. Nattokinase works to support correct cardiovascular function, prevent cardiovascular disease, and to cleanse the blood.* Another primary ingredient in Fibrenza is superoxide dismutase. This ingredient is an enzyme comprised of various complex proteins that function as accelerators in the body, that similarly to serrapeptase and seaprose, help prevent inflammation. Superoxide dismutase works efficiently at specifically preventing and avoiding colon inflammation, or colitis. Superoxide dismutase is also noted for its potent antioxidants and anti-aging properties. Pancreatin is another main ingredient in Fibrenza that provides tremendous health advantages. Pancreatin is also made up of several digestive enzymes that collaborate to protect the vital organs like the liver, pancreas, and intestines, to aid digestive issues and promote proper digestion, to prevent cyst formations, and to cleanse the body of of toxins. Fibrenza is also superior to other dietary supplements because it's free of GMOs, artificial colors, dairy, wheat, yeast, gluten, fish, and more.
The Undeniable Advantages of Making Fibrenza Part of Your Daily Routine
Clearly, Fibrenza is a potent blend of numerous enzymes that work with your body to monitor crucial bodily functions and to prevent decline. By including Fibrenza in your daily dietary supplement routine, you'll be better positioned to reap the benefits from digestive protection, heart protection, improved intestinal health, inflammation prevention, the spreading of antioxidants throughout the body, anti-aging benefits, and ultimately, dramatically improved health and an increased life expectancy.
* DISCLAIMER
Individual results may vary. The statements on this website and all affiliates have not been evaluated by the FDA. Products mentioned on this website are not intended to diagnose, treat, cure or prevent any disease and do not replace medical advice. Advice on treatment or care should be obtained through consultation with a physician or trained health care practitioner who has examined that patient or is familiar with that patient's medical history.
EnzymeSuperstore, and its affiliates urge you to consult with a qualified healthcare provider to discuss both the advantages and risks of using any health related product and for answers to your personal questions.