LipiCept – Cholesterol Support
According to the Centers of Disease Control and Prevention, many cholesterol related health issues are preventable through the practice of basic health and lifestyle changes such as exercise, a healthy diet, and not smoking. There are also high-quality supplements that can harness the key components of certain foods and plants that are specifically beneficial to cholesterol health.
LipiCept Ingredients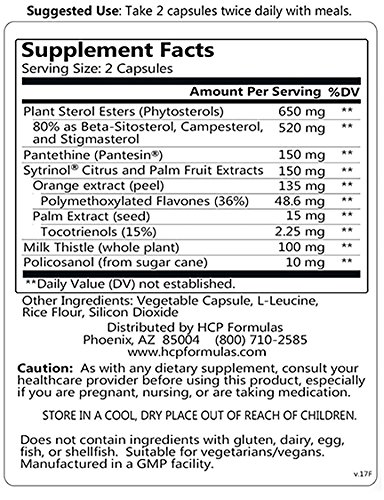 LipiCept contains a blend of proven ingredients, including Sytrinol and Pantesin, formulated to support healthy cholesterol levels already within the normal range. Healthcare professionals and fine health food stores worldwide recommend LipiCept not just for efficacy, but also for HCP Formulas commitment to clean ingredients. LipiCept is phthalate-free and does not contain gluten, dairy, egg, fish or shellfish. LipiCept is suitable for vegetarians and vegans and is manufactured in a GMP facility.
Promotes Healthy Cholesterol Metabolism
Lowers Cholesterol
Clinically Proven Ingredients
What is Pantesin
Pantesin branded pantethine is a clinically researched, ultra-pure ingredient that supports healthy cholesterol levels. A derivative of vitamin B5, pantethine is composed of two molecules of pantothenic acid. It helps increase the activity of coenzyme A which creates a reduction in cholesterol synthesis.

What is Sytrinol
Sytrinol is a patented proprietary blend of natural citrus and palm fruit extracts standardized to bioflavonoids and tocotrienols.

What are Phytosterols
Phytosterols (referred to as plant sterol esters) are a group of naturally occurring compounds found in plant cell membranes. Because phytosterols are structurally similar to the body's cholesterol, when they are consumed they compete with cholesterol for absorption in the digestive system. As a result, cholesterol absorption is blocked, and blood cholesterol levels reduced.
LipiCept contains 0.65 Grams of plant sterols per serving. Foods containing at least 0.65 grams per serving of plant sterol esters, eaten twice a day with meals for a daily total intake of at least 1.3 grams and as part of a diet low in saturated fat and cholesterol, may reduce risk of heart disease.

Dosage of LipiCept
For best results, take two capsules twice daily with meals, or as recommended by your healthcare provider. LipiCept is suitable for vegetarians.
DISCLAIMER
Individual results may vary. The statements on this website and all affiliates have not been evaluated by the FDA. Products mentioned on this website are not intended to diagnose, treat, cure or prevent any disease and do not replace medical advice. Advice on treatment or care should be obtained through consultation with a physician or trained health care practitioner who has examined that patient or is familiar with that patient's medical history.
EnzymeSuperstore, and its affiliates urge you to consult with a qualified health care provider to discuss both the advantages and risks of using any health related product and for answers to your personal questions.