Exclzyme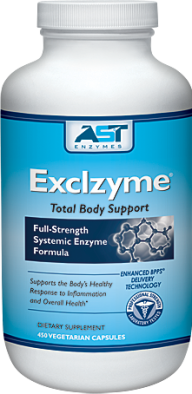 Exclzyme by AST Enzymes is a blend of numerous enzymes that eases inflammation and pain, encourages healthier circulatory and immune systems, and decreases symptoms associated with fibromyalgia. Used for the last ten years as a daily supplement, this product is all natural with enzymes that are Kosher certified and can be taken by vegetarians. Exclzyme has shown to help people recover more quickly from muscle soreness due to strenuous activity, pain and inflammation in joints and muscles associated with fibromyalgia and overall blood circulation. Its use also promotes healthier sinus, respiratory and immune systems in addition to effective digestion of fats, sugars and proteins*. Also available as Exclzyme 2AF.


About Exclzyme
Exclzyme does not contain any chemicals, preservatives, derivatives, pesticides or artificial sweeteners or colors. There is also no dairy, yeast, peanuts, tree nuts, fish or shellfish in the contents. The enzymes in Exclzyme include Protease, Papain, Bromelain, Amylase, and Lipase. The bioflavonoid Rutin strengthens arteries and veins, and the antioxidant Amla is also a good source of vitamin C. Another ingredient is Pepitzyme SP-EN that is enteric-coated serrapeptase. Exclzyme eases inflammation and pain, and the coating prevents it from being released and absorbed until it is in the intestine.
Exclzyme Ingredients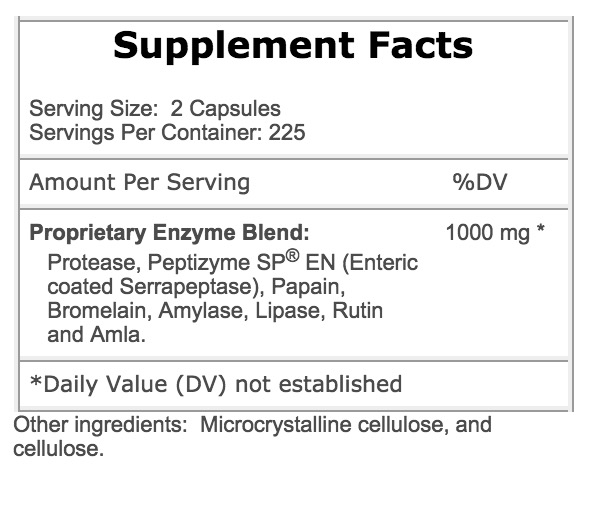 Directions: Take one capsule three times a day then increase to two capsules three times a day after three days. Three or more capsules are taken three times a day after one week, but then the dosage should be reduced to one to three capsules three times a day once the desired results are achieved. Capsules should be taken a half hour to one hour before or two hours after meals with a full glass of water.
Exclzyme is recommended for adults desiring improved health and a better quality of life. With an affordable price, Exclzyme provides fast results especially for those suffering from joint and tendon pain or circulatory issues. Those who are pregnant, nursing, or on prescription medications should consult their doctor before taking these capsules.


* DISCLAIMER
Individual results may vary. The statements on this website and all affiliates have not been evaluated by the FDA. Products mentioned on this website are not intended to diagnose, treat, cure or prevent any disease and do not replace medical advice. Advice on treatment or care should be obtained through consultation with a physician or trained health care practitioner who has examined that patient or is familiar with that patient's medical history.
EnzymeSuperstore, and its affiliates urge you to consult with a qualified health care provider to discuss both the advantages and risks of using any health related product and for answers to your personal questions.